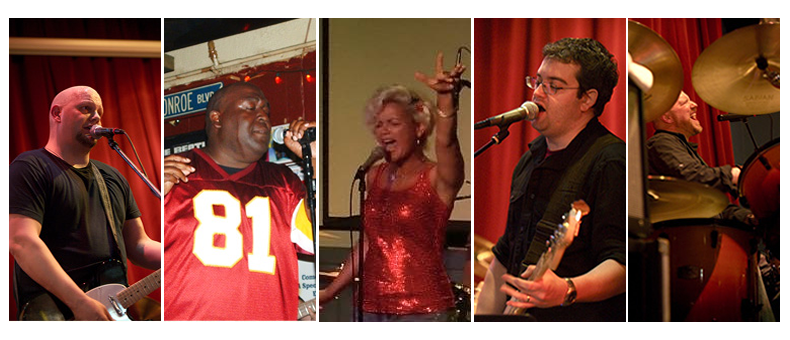 About Us

Jonathan 'Jon-John' Stewart
Vocals, Percussion, Mock Harmonica and Human Beatbox
Jon was born in Washington DC , and grew up on the mean streets of Capitol Hill (tongue firmly in cheek). He was raised by his mother and grandparents. At the age of 7, Jon made his stage debut in the starring role of Brent Elementary School 's Easter play, 'The Magic Egg' as Papa Bunny.
Jon has been hooked on music since before the age of 5. He wanted to sing and dance like James Brown, Jackie Wilson and The Jackson Five. In addition, Jon liked to rock out to his older brother's records (Rolling Stones, Led Zeppelin, Jimi Hendrix, Rare Earth and Iron Butterfly). Jon has sung in bands and groups too numerous to count . Somewhere along the line he started writing songs.
Jon joined Stop Thief! in 2003. '' It is by far the best group I have ever worked with.'' In addition to the previously listed influences, Jon also attributes his musical styles to David Ruffin, Stevie Wonder and Motown (in general), Prince, Beatles, Beach Boys, 80's Hair Metal, and Living Colour.
Jon's deepest darkest secret is that he claims to know the words to at least 40 Monkees songs, and every Shaun Cassidy song off his first 2 albums.

Cate Cooper
Vocals, Guitar and Keyboard
Cate comes to Virginia via western NY, Texas, Florida, and Chicago. Her formative years were spent listening to her family's disparate musical favorites, from blues, pop, and prog rock to adult contemporary, jazz, and hair metal, mixed with the radio hits of the 80's. She began classical vocal training at the ripe age of 12, but the thrill of rock, pop and folk music lured her back to the dark side.
A multi-instrumentalist, she's written and performed in numerous bands since relocating to northern Virginia many years ago. From bands focused solely on original music, as well as bands committed to covers, Cate is involved in anywhere from two to five projects at a time. When she's not busy gigging, listening, or learning new music, Cate finds herself in exploring the outdoors, battling with a heavy bag and gloves, manipulating yarn into lumpy sweaters with needles & hooks, or consulting on software implementation.

Andy Charest
Guitar and Backing Vocals
Andy was born in Fort Belvoir, Va. Music has been huge for him since he was a l'il tyke, bouncing around the room as a healthy mix of show tunes and WMZQ (America's Country Station here in D.C.) found its way through the house.
In 6th and 7th grade, he was introduced to a variety of non-radio-centric music that can only be described as "skate punk." Bands like 7 Seconds, Minor Threat and Youth of Today found their way onto Andy's mix tapes, coalescing alongside radio-friendly 80's pop from Debbie Gibson, El Debarge, Prince and Hall & Oates. Through 8th grade and high school, Andy retained his Benetton-Colors-of-the-World musical sensibility, but added a harder edge to his influences -- bands that seamlessly melded hard rock and metal with soul, funk and other genres, like Living Colour, 24/7 Spyz, Saigon Kick, Extreme and Jane's Addiction.
Andy played in the bands Scoundrel and Dali Lama while attending Radford University in southwest Virginia, and played in the band Jetty Park during a 3 1/2-year stint in Fort Pierce, Fla., on the beautiful Treasure Coast.
Andy digs playing in Stop Thief because it feeds all the tentacles of his musical octopus, which in turn feeds the creation of bad metaphors.

Mike Radosh
Bass and Backing Vocals
Mike spent his early years in New York City, moving to the Maryland burbs at 11 and starting his musical career shortly after. In addition to being a jazz trombonist in high school and college, Mike spent the better part of his teenage years playing rock guitar. One day though, Mike had an epiphany: there were way too many guitarists who could play very very fast, and playing a 6 stringed instrument was far more complicated than playing a 4 stringed one. And with that, Mike started playing the bass. He's developed a love of the groove ever since and hasn't looked back! Over the past 10 years, Mike has played with several original and cover bands throughout the Washington, DC metro area.
If it's catchy, has a good melody, and a strong beat, Mike probably likes it. Nonetheless, he can't ever seem to get away from his favorite band, the Beatles. Mike attributes his not overly technical, but melodic bass style primarily to the influence of Paul McCartney. But take a glance at his iPod, and you might find Mike listening to some of his other favorites, including Fountains of Wayne, Ben Folds, or Led Zeppelin. In 2011, Mike became a Dad, and as such has added another artist to his ever expanding list of musical heroes: Elmo.

Steve 'Huggie' Jordan
Drums and Backing Vocals
Steve hails from the Albany area of upstate NY. Growing up there in the 70's and 80's, he was hip-deep in the confluence of the rivers flowing from Anglo-phile classic progressive rock (Genesis, Yes, Led Zeppelin, King Crimson), punk with a brain (XTC, The Police) and radio-friendly pop (Men at Work, Survivor). With friends and regional musicians, he performed as a vocalist and keyboardist in cover bands under the names of Entrenched and Etesian Faux Pas in those times.
During Steve's college years in the late 80's and early 90's, he dipped his feet into the sequencer and drum machine waters of new wave and techno-pop (i.e., New Order, Love and Rockets, Joy Division). He wrote and performed original compositions as half of the retro-techno duo that made up Burn That Word!, which still continues to record periodically. You can find Burn That Word! here.
For Steve, the sands continued to shift in the form of various post-college jobs and further academic tinkering. After overcoming a crippling Simpsons addiction, Steve landed in the greater DC Metro area in the mid 90's, where he has remained ever since. After taking up the drums on a bet, Steve met up with fellow ' Thieves' in 2001 and he has been playing with them ever since. Since he brings to the band a certain level of youthful exhuberance, we're all still undecided as to whether his nickname means he's 'cuter than a bug's ear' or that he's still not yet managed to get out of diapers.
Alumni

Kevin 'B Masta Funk' Pritz
Bass Guitar
Kevin was born in Washington DC. He traveled worldwide (via military family), but spent most of his time growing up in the Northern Virginia area. Influenced early on by many groups including KISS, Rush, Jimi Hendrix, Van Halen, The Kinks, and The Police; he still enjoys all types of music.
In the 80's, Kevin's college roommate turned him on to rap, including groups like Grandmaster Flash and the Furious Five and Soul Sonic Force. Kevin has had stints with various musical instruments including viola, trombone, guitar, and most recently bass. He joined an early rendition of Stop Thief! in the mid 90's as mixing board engineer. Kevin was brought into the band on bass when the 2-piece acoustic group went full steam ahead as a rock and roll band. His musical preferences have brought a harder edge to Stop Thief!, even though he enjoys playing a slower tune now and then.
Kevin's ambitions include getting out of corporate America, and running his own business (lots of ideas, just no business plan yet). He keeps his sanity by indulging in various activities including loud music, PC gaming, web site development, fishing, golf, and spending time with his lovely wife and two daughters.