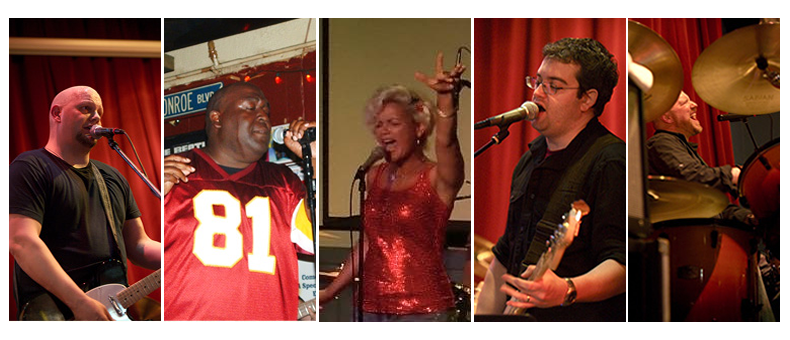 Like Stop Thief on Facebook by clicking here!
Interested in booking Stop Thief for a special event?
Write the band directly at: stopthiefband@yahoo.com
News
May, 2018 - Well, the warm weather has finally come to the DMV. But if checking out the DC tidal basin cherry blossoms isn't quite your cup of tea, then you are soooo in luck! Stop Thief has begun to partner once again with James Turner Productions, so we are making the rounds and finally returning to some of our favorite local businesses after too much time has passed by. We're continually learning new songs to help bring out the good times. So check out our Gigs page, and come out to see us when we're in your neck of the woods!
January, 2018 - We can't believe another year has come and gone. All of us are just coming back together after a few months off at the end of 2017, and we're eager to get out and about, so we can see our friends again. We're working on some new, fun and danceable songs by artists such as Justin Timberlake, Montell Jordan, DNCE, and Neon Trees. Our new year's resolution is to develop some new relationships with venues in DC, Maryland and Northern Virginia, but we're also still available for private events. Reach out to Stop Thief at stopthiefband@yahoo.com with any questions or offers, friend us on Facebook, and keep watching our Gigs page for new show dates. We hope to see you soon!
July, 2017 - This year has been a good one for Stop Thief - and that also means it has been a fun one for us and our fans! We've enjoyed our show series at Seven Corners Pub in Falls Church, VA over the past year, and we are so grateful to our families and friends for supporting us there so regularly! We're looking ahead to the rest of the summer and the upcoming fall as opportunities to learn new material and to perform again for our friends and fans. Reach out to Stop Thief at stopthiefband@yahoo.com, friend us on Facebook and keep watching our Gigs page for new show dates. We hope to see you soon!
January, 2017 - Happy New Year to everyone, especially all our friends and fans!!! 2016 was an exciting year for us, and 2017 is looking like it will be another year full of music and plenty of opportunities for us to see our friends out at public and private events. As the winter weather sets in with cold and snow in the DC region, we want everyone to know that we already have scheduled a springtime show series at Seven Corners Pub in Falls Church, VA. Check out our "Gigs" page for dates an information! We hope to see you soon!
May, 2016 - If you have been lucky enough to attend one of Stop Thief's more recent private holiday parties or charitable fundraising events, you will have noticed that we have been joined by the talented Cate Cooper. Stop Thief is fortunate and so excited to have her as part of our musical family! Truth be told however, several of Stop Thief's members have worked with Cate in previous bands already. So there was no doubting her ability to handle the multiple duties of lead and backing vocals, rhythm guitar and keyboards. We're looking forward to seeing our longtime fans and friends with this 'new and improved' lineup at a public show soon!
February, 2016 - Stop Thief is excited for the coming year. We've been at work learning some of fun new songs, and we hope to see a lot of our friends at the annual John Tyler Elementary fundraiser in Eastern Market, DC on February 27. Show and event details are on our Gigs page, where there's also a link to purchase advance tickets online. Be sure to check it out! Your tix purchase will support the school, and during the event you'll be able to enjoy the free food and drinks provided by local restaurants and breweries, while dancing all night long to the music of Stop Thief! Speaking of which, we'll be joined this year by a special surprise guest! Who will it be? Well, we're not saying - not yet anyway. You'll just have to come see us to find out...
October, 2015 - This past year has been a fulfilling one for Stop Thief, as we have had the opportunity to perform for some exceptional audiences at several fun shows. We performed at fundraisers for some area schools, and we're hoping to make return performances for them in 2016. And as one would expect, we also had a great time performing at a few private events, including a wedding down by the Alexandria, VA waterfront. We're looking forward to continuing on in the same manner into 2016, so feel free to reach out to us by writing to our yahoo email address (above) if you're interested in having Stop Thief be a part of your celebration, festival or private event. See you soon!
December, 2014 - Yes, you have not been imagining things. Stop Thief has not performed as many gigs as you may be used to, but we think we've been able to be involved in some great causes and campaigns this past year, and we've been fortunate to play to some very enjoyable and appreciative crowds in that same time. Thank you!!! We're looking forward to a great 2015 and we hope to make some repeat appearances, to reconnect with old friends, and to make some new ones. We hope to see you soon!
January, 2013 - Stop Thief is excited for the new year, and after a couple of very successful public and private shows to wrap up 2012, we're even more excited to see our friends again in the year ahead.  We've returned to the lab to learn new songs, and we can't wait to unveil them in the near future.  The holidays were a wonderful time to spend with our respective families, even though we and the rest of the DC-area music business mourned the loss of longtime James Turner Production mainstay, Rob Casey.  Rob helped greatly to shape the vital DC-area music scene, and he will be dearly missed.  Our thoughts and sympathies go out to his family, loved ones and colleagues.
September, 2012 - Stop Thief continues to rev the engines for our first out-of-the gate fall show in October, and we now have a presence on Facebook.  Please tune in, 'friend' us and 'like' us to keep up to date with our doings, to see pictures and other content and to also check for details about upcoming shows, by following the link at the top of this page! 
July, 2012 - Wow, it certainly has been a long time since we last updated our site, and in the meantime, there have been many wonderful developments and additions in the lives of the Stop Thief family. But most important for our fans, Stop Thief has recently returned to the labratory, regenerating our setlist with old favorites and with new, entertaining material - all with an eye towards 'going public' once again this fall. Yes, you heard it here first! Dates, times and places are still in development, but Stop Thief plans on coming to a venue near you soon!
June, 2010 – It has been a long time since we have provided our friends with any updates since we went into our self-imposed 'hibernation.' Since the summer of 2009, there has been a wedding (congrats to Andy & Jen!), birthdays and anniversaries aplenty. The big news for the band however, is that the gears of the Stop Thief machine have begun turning again. Sad to say, founding member Kevin (bass) has decided to move on to additional projects, and his presence will be greatly missed. As a result however, Stop Thief has welcomed new bassist, Mike Radosh into the fold. Mike brings to the band, years of performance experience in jazz, original rock and cover band outfits. We're excited to have his bass, singing and songwriting thkillz, and we're psyched to begin gearing up for new shows later this year at a still-to-be-determined date and time. So watch this space!
August, 2009 - The members of Stop Thief continue to be busy with various family, work and music doings. There have been marriages, engagements, moves to new digs, and big birthdays for young 'uns. Andy and his friends with Cain Rose Up have folded up shop and put their modern rock spurs up for the time being. After a stint with area cover band Bam Bam, Jon has moved on to new musical projects, and Steve has joined up with established original area band Aubriot, while still performing with Andy in the band Bette Noir. Both bands are on Facebook, so 'friend' em and join their groups. Or, better yet, come out and see us sometime!
Aubriot - established DC-area, original modern rock band featuring Stop Thief drummer, Steve
http://www.aubriotband.com
Bette Noir – established original indie-pop/rock band, featuring Stop Thief guitarist, Andy and Stop Thief drummer, Steve.
http://www.bettenoir.com

April, 2009 – We know it has been awhile since Stop Thief was out and about, but we wanted everyone to know that you can still get your 'fix' 'cos we'll be updating the website with some new video and audio content in the coming weeks. In the meantime, you can still find some of your favorite Stop Thief members, bringin' the rock to the greater DC-metro area as members of other bands. Check us out!
March, 2009 – After some heart-to-heart discussions among the members of Stop Thief, we've come to the realization that returning to the band for a full schedule, just does not seem to be in cards right now. We all have our busy lives, as well as additional projects we'll be pursuing, so it seems that Stop Thief will be going into a longer-term 'hibernation' than previously thought. We have all enjoyed performing for you as Stop Thief, and while we hoped we might get back into it sooner than later, we're going to put Stop Thief on the shelf for now, with the hope that we can return in the future.
January, 2009 – Stop Thief had a great time performing at Brittany's New Year's Eve party to rock 2008 on it's merry way. Happy 2009 everybody! As everyone knows by now, we're going to be taking a hiatus from performing for a few months, but we're hoping to get back into some shows in a few months (Spring of 2009). We'll keep everyone posted for sure – in the meantime, thank you again to everyone who came out and showed us the love, time and time again these past years!